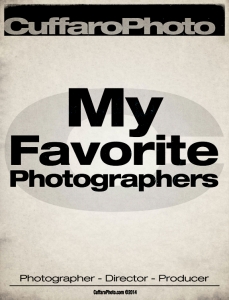 I'm often asked who are my favorite photographers.  I thought I would give you my favorites of ALL time.  In no particular order or course, here we go…
Richard Avedon – true master.
Irving Penn – the best at everything… and more!
David Bailey – such a legend!
Peter Lindberg – one of the best fashion photographers ever!
Juergen Teller – master of ease!
Nobuyoshi Araki – what can I say, wow!
Richard Avery – a genius with women.
Mario Testino – fucking duh!
Bruce Weber – carefree and fun!
Michael Thompson – the best at W Magazine.