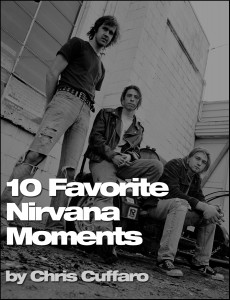 I spent some time with this band called Nirvana.  NOT a lot of time, more like quality time.  I get asked more about Nirvana than any other band I've shot.  Especially by younger friends cuz they want to know about Kurt.  I was lucky enough to shoot them twice and hung out more than a few times.  Here's 10 fun moments that I will never forget…
First Shoot – in Seattle on March 30th, 1991.  Meeting everyone for the first time and having some fun.  The story… LINK
My First Nirvana Show – at the Roxy in Los Angeles August, 15th, 1991.
Rock For Choice – in Los Angeles on October 25th, 1991 at The Palace.  The only time I shot them live.  My bad!
Second Shoot – at my apartment in Hollywood on July 22nd, 1991.  Had fun hanging out and shooting.  Things were beginning to take off for the band and it was fun to see how things had changed.  Of course the guys didn't change at all.
Come As You Are – Spent the afternoon hanging with the band while they shot the video.
Commodore Ballroom – in Vancouver, BC on October 30th, 1991.  The warm-up show for the Halloween show in Seattle with Mudhoney.  Their best performance I ever saw!!  Fucking Brilliant.
Paramount Theatre – in Seattle on October 31st, 1991.  Filmed for the live video At The Paramount.  I got to watch the show from the side of the stage.  Made the mistake not to shoot this great show.  I'll never forgive myself.  Mudhoney and Bikini Kill opened the show!
BackBeat Sessions – NOT exactly Nirvana, but I spent the day with Dave Grohl recording the soundtrack to the movie BackBeat.  Also at this session were Thurston Moore, Mike Mills, Greg Dulli, Don Fleming and producer Don Was.  Two of the best days ever!!!
PSA – Again not all of Nirvana, but I was hired to create a PSA for Rock the Vote And Krist Novaselic was nice enough to do the voice over.  He was so cool to help us out.
In Concert Interview – in Los Angeles on December 27th, 2016 at the LA Sports Arena.  I interviewed the band for ABC's In Concert TV Show.