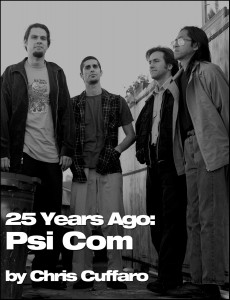 02.08.94 – Perry Farrell & PSI COM | Musician Magazine
Way back in February 1994 I did this really strange shoot for Musician Magazine. The shoot was with Perry Farrell and his first band Psi Com. We all met in Venice Beach at some restaurant. This was the first time these guys got together in many years. Jane's Addiction was huge at the time and you could tell everyone was a bit uncomfortable. Very awkward was more like it.
Perry was nice to everyone and they did a lot of catching up. After the reunion we had to do the photos. I took them out back and shot what I could. Super quick and simple. I had shot Perry a bunch by then so he knew what the expect. The other guys were a bit nervous, but that was to be expected. In the end it was fun and everyone had a good time… I think.