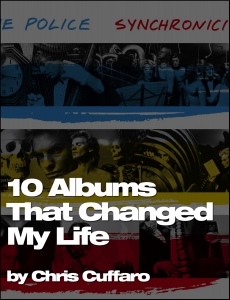 Yes, ALBUMS!!!  I'm gonna go way back and list the 10 albums that changed my life.  For fuck sake, there are more than 10, but you know me… 10 is easiest.  I grew up with 45's and albums.  I loved riding my bike to the record store and buying the newest albums of my favorite artist.  It was such an event to buy it, bring it home and put it on my turntable.  Crank up the volume and enjoy!  Here's my 10 in no particular order of course…
Return To Forever | Romantic Warrior –  The ultimate jazz fusion album by the best musicians!
The Beatles | Sgt. Peppers Lonely Hearts Club Band – Duh!!!
Earth, Wind & Fire | Gratitude – Double album and every song is money!
Pink Floyd | Dark Side of the Moon – I wasn't doing drugs when this came out, but I wish I was!
Jane's Addiction | Nothing's Shocking – Perfection!
The Police | Synchronicity – A big album for me after I moved to LA.
Prince | Purple Rain – We went crazy when the movie came out and could not stop playing this album for a year!
The Beatles | Hard Days Night – My favorite Beatles album and my favorite movie.
Santana | Moonflower – Carlos at his best!
Mudhoney | Mudhoney – Turned me onto Seattle!!!