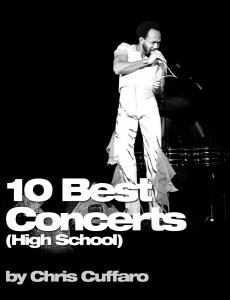 When I was in High School I went to lots of concerts… like a ton of concerts. It was a big deal to wait in line and buy tickets to see our favorite bands. I saw some great shows that still to this day make me smile. Thank God I have photos!!! Here's my 10 favorite…
Earth, Wind & Fire – Saw them 6 times & every time was best ever!
Rufus & Chaka Khan – Best show I ever saw at Circle Star Theatre.
Return to Forever – My first concert and still to this day the best!
Smokey Robinson – My first date night and an awesome show!
Graham Central Station – GCS is the baddest group from east to west!
Tower of Power – Nobody funkier than TOP!
Con Funk Shun – One of my favorite concerts ever!
Journey – New Years Eve 1978 with Blondie. Boo ya!
Ashford & Simpson – One great song after another!!!
The Jacksons – Right when Off the Wall came out. SO electric!