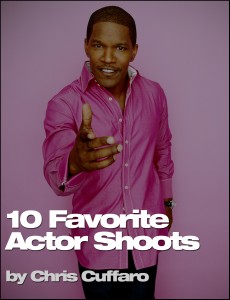 I've been lucky to meet and shoot so many of my musical heroes, but also I've gotten to meet so many great actors.  Actors are SO different than musicians.  Actors are interesting for sure and I never know what to expect.  Here's 10 of my favorites… 
Brad Pitt – Before he was a big deal he came over to my place and we shot in the alley behind my apartment.

 

SO nice!

 

I knew he was special then.

 

Just wish he didn't forget me.

 

;-)
Dustin Hoffman – I got 15 minutes with him, but they were a great 15 minutes!
Jamie Foxx – Shot him twice and both times he was the best.

 

Such a nice & giving actor.

 

Laughed so hard both times.
Michael Biehn – One of my favs of all time.

 

A great actor and a good man.

 

Shot him more than a couple times.

 

Just so good.
Johnny Depp – I got 5 minutes and one roll of film.

 

Every frame is great!!!
Paul Rudd – Before he was a super hero he was a hard working actor.

 

SO nice and easy.
Vincent D'Onfrio – Shot him for Esquire at Smash Box.

 

Just remember how cool he was and so easy!
Jack Black – Shot him twice and he never let me down.

 

Always a fun day of laughs.
Jason Alexander – This was after Seinfeld.

 

He was the best and so giving.

 

I think we all had fun that day.
Lorenze Tate – Was a big fan and he did not let me down.

 

SO classy and cool.

 

So easy to shoot and work with.
** I'm not listing the legends cuz I wanted to list the newer actors.