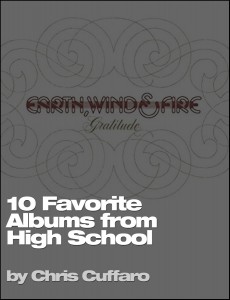 I remember the music from High School more than High School.  I used to ride my bike to Underground Records and buy as many albums as I could afford.  I loved the record store!!!  Here's my 10 favorite albums I bought from 1972 to 1978…
Earth, Wind & Fire | Gratitude – I bought the cassette first, but wore it out.

 

Had to but the double LP and wear that out.

 

SO good.
Graham Central Station | Ain't No'Bout-A-Doubt It – They also released Mirror a year later, but this LP stands out cuz every song was perfectly funky!
Con Funk Shun | Secrets – SO many great LP's from one of my fav bands!

 

I just love every song on this one.
The Brothers Johnson | Look Out for #1 – Their debut and best!

 

Saw them live at Circle Star Theatre and they killed it.
Rufus & Chaka Khan | Street Player – Everything they put out was EPIC.

 

The LP after this one MasterJam was genius!!!

 

Saw them live and they did not let me down.
Parliament | Mothership Connection – The funkiest of funk!

 

The best of the best.

 

I saw the landing of the Mothership and it changed my life!
Angela Bofill | Angie – She was one of my favs and this album is one of many great albums.

 

Saw her live and she was an angel.
Saturday Night Fever | Soundtrack – This movie and soundtrack changed everything.

 

Disco!!!!
Tower of Power | Back to Oakland – Too many great albums at this time.

 

Seriously the best of the Bay Area by far!!!
Heatwave | Too Hot to Handle – Their debut LP with so many hit songs!

 

I saw them open up for the Commodores and they were AWESOME!
** This is just a few.  There are SO many more.