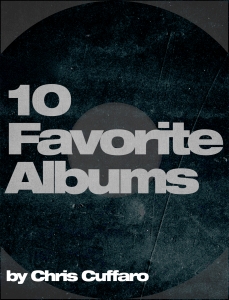 This is not easy!  10 favorites!!  Really?  Desert island discs!  I'm gonna try my best to name 10 favorites, but I promise there are another 100 I could list.  These 10 are not really my favorites, they are the ones that changed my life in one way or another.
Earth, Wind & Fire | Gratitude – My first cassette tape & I wore this sucker out all through High School.
Pink Floyd | Dark Side of the Moon – Probably one of the greatest albums ever!
Return To Forever | Romantic Warrior – the greatest jazz fusion album or ALL time.
ABC | Lexicon of Love – This album is represents the entire 80's for me.
Santana | Moonflower – Perfection from beginning to end.
Nirvana | Nevermind – So simple & brilliant in every way.
U2 | The Joshua Tree – Pure passion & talent.  Every song a classic.
Jane's Addiction | Nothing's Shocking – Changed my life.
A Perfect Circle | Mer de Noms – I love everything about this album & I mean everything.
Vince Guaraldi Trio | A Charlie Brown Christmas – SO good, that I listen to it year around.
*** This sucks, I could list so many more.  Maybe I'll do part two soon.