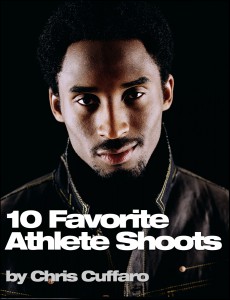 I thought I would dig deep through my shoot history and come up with something more than music.  I'm known for my music shoots, but I've done SO much more.  Like WAY more than you know.  Here's 10 favorite Athlete/Sport shoots that I love…
Wayne Gretzky – The Great One!

 

Duh!
Kobe Bryant – Had so much fun talking trash with Kobe since I hate the Lakers so much.

 

He was so funny and dished it back.
Kelly Slater – A surfing God!

 

One my favorites of ALL time.
Kevin Garnett – My favorite player did NOT let me down.

 

So cool, nice, funny and just the best of the best!
Luc Robitaille – My first hockey player I shot and at the time I was a HUGE Kings fan and season ticket holder.
Dave Mirra – Such a legend.

 

Got to shoot him for the day at his place.

 

Lots of laughs!

 

I could not believe he made so much money for riding a bike.

 

Ugh.

 

What did I do wrong?
Danny Way – At his BIG ramp.

 

Such an amazing day with an amazing athlete.

 

I climbed to the top of the ramp and was like…

 

who fucking does this?

 

How crazy do you have to be?
Michael Johnson/Maurice Greene/Marion Jones – At the time they were the 3 fasted people on the planet.

 

I challenged them to a race, but they chickened out!!!

 

I think I scared them with my speed at shooting the photos!

 

;-)
Michelle Kwan – I'm not an ice skating guy, but meeting and shooting such a legend was AWESOME.

 

She was the best!
Joe Sakic & Peter Forsberg – Again, hockey players, but this time was fun cuz I shot ALL 8×10 polaroid.

 

Ouch!