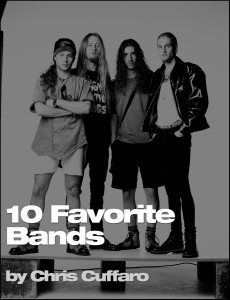 This is NOT easy for so many reasons.  What kind of music?  What years?  What makes a great band?  SO many questions.  This was tough, but I did my best to list my 10 favorites of all kinds of music.  The bands that make me smile!  The bands that make great music that will last forever… 
Earth, Wind and Fire – They could do no wrong!
Genesis – Loved them for so many years.

 

With and without Peter.
Return To Forever – They were the Fab 4 of Jazz Fusion.
Rufus & Chaka Khan – A great band of musicians led by the best voice!
Pink Floyd – How can I not?

 

The Beatles – Duh!!

 

Without them, there is no music.
Jane's Addiction – My fav of the 90's for sure.
Fugazi – The truest punk band ever!
Alice In Chains – I just love the acoustic music!!!
INXS – Fuck yea bro!