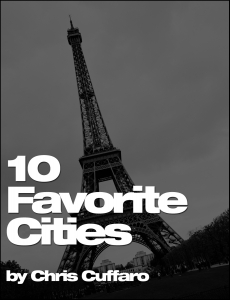 As much as I love Los Angeles and I've now called it home for 34 years… I do love to travel.  I've been blessed to travel the world and see some of the best places ever.  I've had so much fun, met so many great people and had some great moments.  I hate airports and the actual process of traveling, but once I get there I'm so happy.  Here's my 10 favorite places…
Sydney, Australia – Probably my favorite of favorites.  Love the beaches, people and lifestyle.  No worries mate.
Florence, Italy – I love all of Italy, but Florence is my fav!  Just amazing in every way!  My all time favorite restaurant is there… Acqua al 2.
New York City, NY – The best city in the world by far!
London, England – Super cool in every way.
Paris, France – The most beautiful city, but the people suck.
Las Vegas, NV – Only for a couple days of fun!!
North Shore, HI – Beaches!!!  Paradise brah!
Malibu, CA – PCH is my favorite drive on a nice day.
San Francisco, CA – The best of NO-Cal and home to my Giants!
Chicago, IL – The best of the Mid West by far.