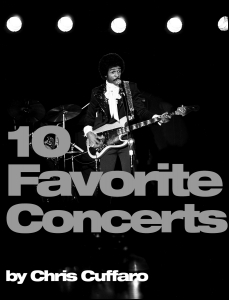 I've seen them all and SO lucky to have pictures to prove it.  I love live music!  There is nothing like seeing a band when they're at their creative best.  NOT at their most popular cuz sometimes thats not when they were hungry and passionate about the music.  I'm gonna give you 10 of my favorites.  As always there are so many more!!!
Return To Forever – 1976, my first concert at The Berkley Community Theatre.  Stanley, Lenny, Chick and Al at their peak.  Blew my mind away and I never looked back.
Earth, Wind & Fire – I saw them 6 times in the 70's and every time was magical.  Getting to meet and shoot the band members later was a blessing.
Nirvana – 1991 at the Commodore Ballroom in Vancouver, Canada.  Opening for them was Mudhoney.  BOTH bands were fucking on top of their game that night and were never better.  It was the perfect venue for this show.
Jane's Addiction – 1991, the "Last Show" in Hawaii.  They had booked two shows after the first Lollapalooza  tour and had planned to break up after these shows.  The last night was brilliant cuz Perry played the show naked and the band was as great as they ever were.  I brought a good friend along to share the moment and we both were blown away!
U2 – The Joshua Tree Tour in 1987 at the LA Sports Arena.  The amazing guitarist David Rhodes (Peter Gabriel) got me two tickets and the seats were perfect.  We had to stand the whole show.  Bono had the audience in his hands.  It was so powerful and passionate.
Rufus & Chaka Khan – 1979, Circle Star Theatre in San Carlos, CA.  This show blew my mind.  To this day I think this band was as talented as any and Chaka could sing every diva under the table.  She was captivating and so damn sexy.
Graham Central Station -1976, San Francisco, CA.  I forget the venue, but it was a small club.  We sat right next to the stage.  Their album Mirror was out and this show was about as funky as you would guess.  The band was amazing and Larry was awesome.  GCS is the baddest group from east to west.
Rock For Choice – 1991, There was a series of shows through out So Cal, but by far this was the best one at the Palladium.  Headlining was Red Hot Chili Peppers, but the line-up included Mudhoney, L7 w/Joan Jett, Exene Cervenka, Hole, Hammerbox and The Fluid.  Just a great show for a great cause!
WOMAD Festival – 1993, at the Polo Fields in San Francisco, CA.  I was lucky enough to have ALL access and spent most of the show sitting on stage!  Headliner… Peter Gabriel w/Sinead O'Connor singing background vocals.  The rest… Stereo MC's (Fucking the best!), Crowded House, P.M. Dawn, Sheila Chandram Shankar and Ziggy Marley & The Melody Makers (so good!!).  There was all sorts of music on many stages, but I spent most of my time shooting the main stage cuz it was so good.
Prince – 1987, The Country Club in Reseda, CA.  Yes, thats right… The Country Club!  This was a day/night I will never forget.  First I got to hang out with him & the band at the MTV awards where they performed Sign O' The Times!  Then they invited me to this super secret show.  They gave me two band passes and I got in before everyone, including the celebrities!!!  I picked a table and waited.  Next thing I know, Whoopi Goldberg & a few other celebrities sat down with me.  Very strange, but fun.  The show started SO late, but was worth the wait.  He played his ass off and the band was so tight.  I think we left around 4am.  I remember waking up the next day and wondering if it really happened.  It was so surreal from beginning to end.
Follow ME on Twitter!!!