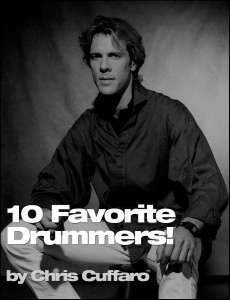 YO!  Gotta have a beat if you wanna play any music.  There are SO many great drummers.  I've shot over 200+ drummers in my career.  I know more about drums than I really want to know.  These are 10 awesome fucking drummers!  They all have their own style and can play anything! 
Jim Keltner – Can play anything and he did!
Stephen Perkins – Best of his generation!
Omar Hakim – What he did with Sting alone is the best!
Vinnie Colaiuta – Another one who can play everything!

 

Saw him with Frank Zappa!
John Robinson – The drummers drummer, but he had me when I saw him play with Rufus & Chaka Khan.
Ringo Starr – Duh.

 

This one is easy!
Phil Collins – Loved Genesis and everything he did solo!
Chester Thompson – Backed up and made Phil look good.
Josh Freese – Best of his generation for sure.
Stewart Copeland – Two words… The Police!