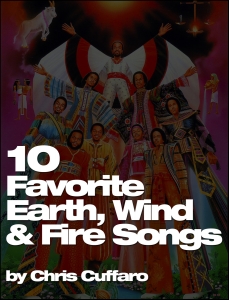 This was easy, but at the same time very difficult.  I've been a huge fan since 1974.  When I was in High School I saw them LIVE 6 times!!  ALL at the Oakland Coliseum in No-Cal.  They were amazing in every way… Great music and a very entertaining show!  I was lucky enough to sneak my camera in few times and shoot some cool pix.  When I look at the pix or listen to their music I just smile.  That's a good thing!  Here's a list of my 10 favorite EWF songs…
Zanzibar – they did many instrumental songs, but by far this is the best!
All About Love – their best love song!
Reasons – the best song to slow dance to.
Sun Goddess – best version… w/Ramsey Lewis of course on Alive in 75.
Imagination – love this song!  Great lyrics!
Devotion – amazing live!
Evil – so good, so evil.
Boogie Wonderland – dance baby dance.
Take It To The Sky – a hidden gem on Faces.
That's The Way Of The World – Their anthem!