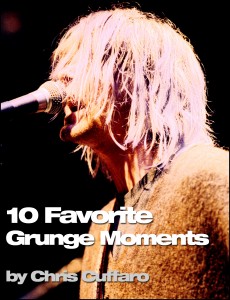 With my Greatest Hits: Grunge exhibition coming up at Blender Gallery in Sydney, Australia it got me thinking a lot about these moments and photos. So for fun I thought I would make a list of my favorite Grunge moments. Here we go in no particular order…
Nirvana & Mudhoney – Seeing them play at The Commodore Ballroom in Vancouver, BC on October 30th, 1991.

Opening for them was Mudhoney!

Probably the best show ever at that time!
Pearl Jam – Directing my first music video for Jeremy.

Changed my life in so many ways and opened lots of new doors.

Thanks to the band and management.
Chris Cornell – writing the song Jesus Christ Pose about my photo of Perry Farrell.

Does NOT get better than that!
Mudhoney – My first shoot with them was awesome.

Just drank beer all day and shot pix.
Sub Pop Records – meeting Bruce and Jonathon for the first time.

They were my heroes at the time.

Loved everything they did.
Eddie Vedder – every show I shot or saw I was blown away by Eddie's passion for his music and the fans.

He gave it ALL and thank god I got some photos to prove it.
Soundgarden – seeing them perform for the first time at The Whiskey in LA for Louder Than Love album.

Blew my mind!!!
Alice in Chains – first, meeting them was awesome.

Second, shooting them was even better.

BUT then it was seeing them live that really fucked with me!
Bikini Kill – Beth took me to see them at the OK Hotel and they blew me away!

Loved every bit of them!

Just wish I got to shoot them.
The Screaming Trees – getting to direct two music videos for them was a blast and to this day I love only one.

I wish I could get a do over with Shadow of the Season.

Dollar Bill is awesome!!!