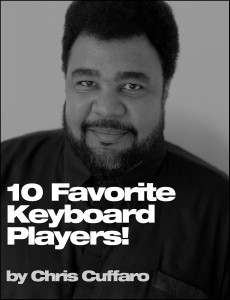 I love the keyboards!  I love all kinds, from a simple piano to the Hammond Organ.  I saw many of these players play live, but a few I wish I did.  I always loved the jazz guys, but the rock guys rocked it big time.  If I'm forgetting anyone please let me know.  I know I am.  UGH.
George Duke – Genius in everything he created.
Chick Corea – My jazz hero!
Tony Banks – Loved all that he did with Genesis!
Greg Rolli – From Santana to Journey!
Richard Wright – Pink Floyd duh!
Herbie Hancock – To the day Man Child is one of my favorite albums!
Stevie Wonder – A living legend and icon!
Elton John – This one was to easy!
Ray Manzarek – How do you not have Ray as one of your favorites?
Mitchell Froom – Saw him play the Hammond with Elvis Costello and it blew me away!