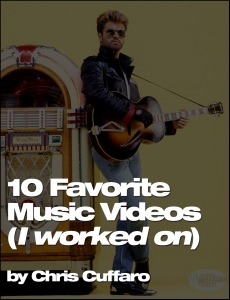 Back in the day Record Labels, Video Production Companies and Artist would hire photographers to shoot stills for the day on their video sets.  I was lucky enough to work with some great bands and artist, but it was the directors that I had real fun with.  I would pick their brains and just watch everything they did and said.  I was lucky to learn from some of the best.  Then I started directing and it really got interesting.  Here's 10 of my great music video moments…
Martini Ranch | Reach – 3 days of fun with James Cameron directing!  Starring Bill Paxton and some friends like Paul Reiser, Judge Reinhold, Adrian Pasdar, Kathryn Bigelow, Lance Henriksen, Bud Cort, Mark Rolston, Jenette Goldstein and many more.  I learned so much working on this video.  Also made some good friends.  To this day I love the photos I got from this video.
George Michael | Faith – Shooting on the set for George Michael's Faith video changed my life.  From that shoot I got to work with George for the whole Faith Tour.  Directed by Andy Morahan.
George Michael | One More Try – Shot in the Blue Mountains outside Sydney, Australia.  My first trip to Australia.  Directed by Tony Scott.
George Michael | Father Figure – 4 very long days!  Directed by Andy Morahan & Tony Scott.
Mary's Danish | Don't Crash The Car Tonight – Good times with good friends.
Neneh Cherry | Heart – Directed by the great David Fincher!  He was doing brilliant music videos before he turned into my favorite movie director.
Pearl Jam | Jeremy – My first video I directed and two of the best days ever.  The video changed my life in so many ways.  #Grateful
Screaming Trees | Dollar Bill – My first real budget video!  Got to try all sorts of video tricks and toys.
Brougham | Murked Out – Directed by me!  A fun night of shooting in the middle of the desert with motorcycles, porn stars and fire!
Puddle of Mudd | Heel Over Head – My last official music video.  We did this one in Chicago.  I Love the bands performance in this video!