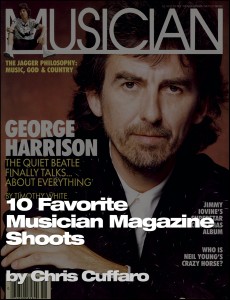 Way back in the day I got my first BIG break shooting for legendary Musician Magazine.  They were based out of Glouster, MA and the creative director was legendary Gary Koepke.  I give all the credit to him for giving me my start in the music universe.  If it wasn't for him, I would not be here today.  These are my 10 favorite shoots and NOT in any order cuz they all were amazing!
George Harrison – FUCK me!

 

I met my favorite Beatle and got talk to him about my favorite movie Hard Days Night.

 

He was the best of the best.

 

Cuz of this shoot I shot him on his video shoot for Got My Mind Set On You.
T-Bone Burnett – At the time T-Bone was working with Elvis Costello and I had just shot Elvis's 5 nights in LA concert.

 

Sitting down and shooting T-Bone was a real honor.

 

He's a fucking genius!
Robbie Robertson – Excuse me!

 

My second cover shoot for Musician.

 

Robbie was and is super cool.

 

This shoot was smooth.
Maurice White – My second shoot for the magazine and it changed my life.

 

I've talked about it many times.

 

Maurice was my musical hero when I was in High School.

 

Saw them 6 times!

 

Meeting and shooting Maurice we like winning the lottery 10 days in a row.
Joe Ely – He's an Austin, TX legend.

 

Shot him in Bosten, MA.

 

Super cool blues man and just a great subject.
Philip Bailey – Again, another member of EWF!

 

Kill me now.

 

Phillip was so nice and a great subject.

 

Talked about EWF and more.
Joe Zawinul – My first shoot for the magazine!

 

A Jazz legend and founder of Weather Report.

 

Shot him at his home in Pasadena.

 

I ended up shooting him a couple more times after.
Pat Methany – My last cover shoot for the magazine.

 

Pat was super cool Jazz guitar god and fun to shoot.

 

He's a legend for sure.
Dweezil & Ahmet Zappa – This was a BIG thrill since I loved their dad so much!

 

Saw Frank twice live and it changed my life.

 

Both were easy to shoot.

 

We did the shoot at their studio in the valley.

 

Took them outside cuz it was a nice day!
Warren G. – My last shoot for the magazine!

 

Shooting a hip hop legend at his home studio was a good day.

 

So chill and easy.