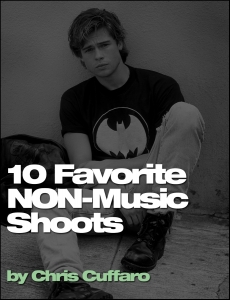 Yea, yea, yea!  Another fucking list.  You don't know this, but I've shot more than musicians in my career?  I've shot it ALL in one way or another.  I did a list of my favorite music shoots a while ago.  I thought I would list 10 of my favorite NON-Music shoots.  Again… Too many to choose from, but I will try.
Brad Pitt – Before he was a big star he came to my place, we hung out, shot some pix & had some fun.  He was so nice and honest.
Gregory Hines – Gregory was the best of the best.  I got to spend a day with him while he taught a tap dancing class.  It was magical.
The Tick – My favorite gallery shoot ever for FoxTV.  The actors, the costumes and the sets were amazing!
Jamie Foxx – Shot him twice and both times Jamie was super cool.
Johnny Depp – Wanted to hate him, but he was so nice & I walked away very impressed.
Chris Farley – One of the funniest shoots ever.  He was just so warm, friendly and hilarious.  Seriously laughed the whole day!
2001 Goodwill Games – At the time I shot Maurice Green, Michael Johnson & Marion Jones… The 3 fastest people on earth!  Boom!
Sidney Poitier – A hero of mine since I was a kid.  Meeting him was all that and  more.  A true gentleman & all class!
Jack Lemmon & Walter Matthau – Two of my favorite actors of all time.  Not only did I do a great shoot, but afterwards they talked to me and let me ask all sorts of dumb questions.
Kirk Douglas – Such a legend and so nice.  Plus he's Spartacus!!!