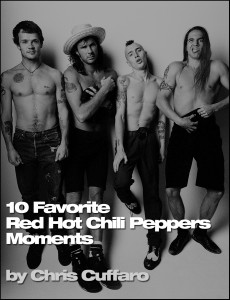 This was so easy to put together.  Like really fucking easy!  I was blessed to shoot and spend some quality time with this awesome band back in the day.  Every shoot was amazing.  Every show was full of energy!  Here's 10 moments I will always be grateful for… 
First Shoot – 06.22.89 for Spin Magazine.

 

I did the shoot at the music video shoot for Knock Me Down.

 

It was at some house in Hancock Park in Los Angeles.

 

I spent the day waiting for them in between takes.

 

Once I got them we just had fun and shot.

 

The easiest band ever to shoot.
Exposure Magazine – Not sure of the date, bit it was in 1990 for sure.

 

We did the shoot at PRS Studios on Melrose Ave.

 

It was part of a bigger fashion shoot we did.

 

The idea was to shoot the artists in cloths/look that they were not known for.

 

SO we shot the Chili Peppers as cheesy tourist.

 

Not the best idea, but of course they made it work.
Detour Magazine – 07.26.91 for Detour Magazine.

 

This was fun!

 

We did the shoot at some studio on Highland Blvd in Hollywood.

 

It was a very hot day and we had no AC.

 

The band show up and the rest was crazy!

 

Flea wanted to be naked, Anthony wanted to wear the writers dress and the band would not slow down.

 

CRAZIEST shoot with the band by far!
WB Publicity Shoot – 08.14.91 for publicity for Warner Brothers Records.

 

We did this shoot at Studio 46.

 

A great day and shoot for publicity pix for their upcoming album Blood Sugar Sex Magik.

 

By this time the band knew me pretty we'll and made it easy for me.
Blood Sugar Sex Magik Tour – The famous tour with Smashing Pumpkins and Pearl Jam.

 

I met them in Dallas cuz I was there to shoot Pearl Jam for EPIC Records.

 

Saw that show and then went to Denver with Pearl Jam and saw that show!

 

An amazing line up and performances by ALL the bands.

 

Seriously I knew Pearl Jam was gonna blow up big after these shows.

 

AND the Peppers were so supportive!
Basketball – Got play basketball a couple times with Flea.

 

He got game for sure.

 

The last time we played on December 26th I slipped and fell.

 

Broke my left elbow!

 

Ugh.

 

December 27th, 1991 – I was supposed to shoot the show that night, but could not cuz I broke my elbow the day before.

 

Instead I interviewed them for ABC's In Concert TV show.

 

We ended up interviewing Nirvana and Pearl Jam after soundcheck.

 

I'll be honest, I only got all the bands cuz they were nice to me and there was NO publicist around to say no.

 

You can see the interview with the Chili Peppers BELOW.
Rock For Choice – 09.27.92 at the Palladium in Hollywood.

 

What a fucking line-up!

 

The Chili Peppers, L7, Mudhoney, Hammerbox, Hole, The Fluid, Joan Jett and Exene Cervenka.

 

It was insane!

 

Every artist kicked ass!

 

At one point I was shooting RHCP from the pit and my lens fell off my camera cuz some kid landed on me!

 

My lens was rolling across the stage & Flea kicked it back to me!

 

Live Shows – I did not shoot them live that often, but when I did it was a challenge.

 

They moved around like crazy!

 

My favorite was to shoot Chad behind the drums because he could play the show and do a photo shoot at the same time!

 

He sounded great and looked even better.
Greatest Hits – To cap it ALL off was when the released their Greatest Hits CD and my photos were used for the back cover & booklet.

 

It all came full circle and feels right.

 

Would love to shoot the guys these days.

 

It would be interesting for sure.