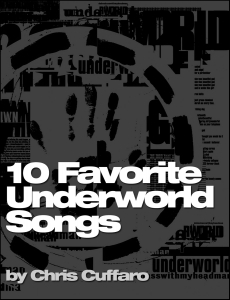 I talk about music a lot, duh.  I've posted some favorite song lists for my favorite bands.  This time I want to list my favorite 10 songs from my favorite band Underworld.  I loved these guys from the first album on.  Here's 10 tracks you need to listen to, but honestly I could list so many more!  (PS. I never got to shoot them, but I hope that will change some day.)
Born Slippy – Trainspotting!!!
King of Snake – gets me ALL fired up.
Juanita + Kiteless (live) – from Everything Everything!  Perfection.
Always Loved a Film – makes me want to dance.
Dark & Long – so dark and long.
Cups – groovy.
River of Bass – mellow and cool.
Sola Sistim – trippy and sexy!
Scribble – makes me smile.
Underneath the Radar – it all started with this!