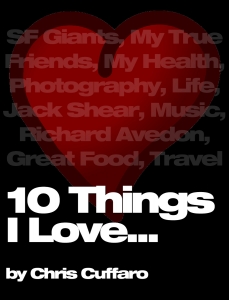 Love is everything to me.  Its more than like, its more than really like… Its LOVE!  Its a deeper emotional connection and takes time to truly develop.  But I love these things and they mean everything to me.  If you are on this list… Thank you!   In no particular order of course, but to be honest… They're ALL number one.
SF Giants – I have lived and died with this team since the day I was born.
My True Friends – Without them, life would be nothing.
My Health – When its good, it means everything to me.
Photography – Its been my passion, my blessing and curse for over 40+ years!
Jack Shear – My big brother & guardian angel for over 30 years!
Great Food – I'm a foodie and love good food no matter what kind, but its gotta be good.
Life – I love life now more than ever.  I feel grateful everyday I wake up and get the opportunity to do what I love and share it with the people I love.
Music – I love ALL kinds of music and I've been blessed to have seen and heard it all.
Travel – I love to travel and see the world.  I've been so lucky to have seen so much, but there are still a few places I want to see.
Richard Avedon – Since I was 10 years old he has inspired me and still does to this day.  I still wanna be like him when I grow up.