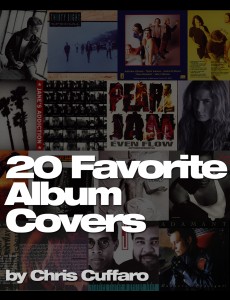 I shot a lot of album covers back in the day and to be honest I only really liked a few of them.  I shot the photos for everything from single sleeves, CD covers, box sets, anthologies and every shape of packaging in between.  More than I can really remember, but here's a few I'm proud of…
Stanley Clarke | If This Bass Could Talk – He was one of my musical hero's and meeting him was one thing, but shooting a cover for him was the best!
George Michael | Monkey (single) – Just loved the shoot and the photo they used for the back cover.
The Clarke/Duke Project | Vol. 3 – An honor and major thrill to have shot two of my favorite musicians ever!!!
Pearl Jam | Even Flow (single) – they did a package using my live shots from the Ten tour and I loved the end results!
Karyn White | Ritual of Love – Great photos and a simple design for a great package!
Matchbox 20 | Yourself or Someone Like You – Their first and biggest album!  I didn't shoot the cover, but I did do the band photos!
No Doubt | No Doubt – I knew it right then and there they were going to be big.  Gwen was super nice and so fun.
The Afghan Whigs | Congregation – Having a photo on a Sub Pop album was the biggest honor at the time and still is.  Plus its a great record!
Burt Bacharach | One Amazing Night – Not the best packaging, but being part of Burt's history is everything!  He's the coolest of the cool.
Jane's Addiction | Kettle Whistle – They used a ton of my live shots from the 1991 tour.  Great memories and photos!
38 Special | Rock & Roll Strategy – One of my first and best!  Shot in Florida at Amelia Island.
The Twilight Singers | Blackberry Belle – One of my favorite packages from front to back!  Working with Greg Dulli is always an honor and thrill.
Prong | The Very Best of Prong – Simple and great!
Alice In Chains | Music Bank – They used some of my images and it made me smile.  Love this band big time & being part of their history is an honor.
Perry Farrell | Rev – They used my "Jesus Christ Pose" photo for the cover.  Not a bad idea if I must say.
Silent Rage | Don't Touch Me There – Not a great cover, but it got me the chance to work with the genius designer Norman Moore and legendary Gene Simmons.
Queensryche | Operation: LIVEcrime – A bunch of my live photos that I shot at a couple shows.  An awesome live band!
Johnny Gill | Johnny Gill – A honor to get a cover for the great Motown Records!  Plus Johnny was super cool.
Megadeth | Countdown to Extinction – Did the portraits of the band on the inside.
Black Market Flowers | Bind – Love this cover!  Gotta love the location and the dog!  Woof woof!