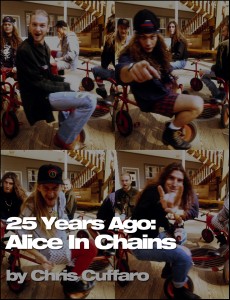 09.29.91 – Alice in Chains | Rolling Stone Magazine
I mentioned back on September 11th that I shot Alice in Chains for Rolling Stone for the first time.  Rolling Stone did not like the results so I got to shoot them again.  This time in Seattle at a recording studio.  I had to meet them there and was told I would get one hour to shoot.  The guys showed up in a good mood and ready to go.  I showed up tired cuz I flew to Seattle from Los Angeles that morning.
Since the studio was dark and moody there wasn't much I could do so I took them outside.  When you have an hour to shoot you try to keep things simple.  When the band is in a good mood you take advantage of it and do something fun.  I did the first shot behind the studio in the parking lot.  Just had them get together and be a band!  I just made sure that the were relaxed and looking good.
For the second and last shot I noticed that next door there was a school playground.  They had slides, swings and more.  I noticed they had this ride that was for kids to go in circles while ridding tiny bikes.  Kind of like a self propelled merry-go-round.  I asked the band to get on and start peddling.  They did get on and the fun started.  I just started shooting as each band member rolled by.  We all were laughing so hard cuz it really was ridiculous.  The photos make me smile to this day cuz it was simply a funny moment with a great band.  Kids today!
We wrapped up the shoot and I had to leave as fast as I could cuz I have to go shoot Soundgarden for Reflex Magazine!  A busy day, but a fun day!  Grunge city baby!