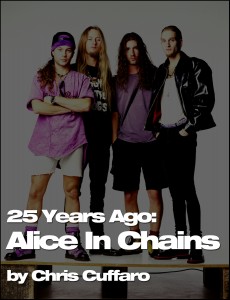 08.20.92 | Alice In Chains | Sony Entertainment
This was my 3rd shoot with Alice In Chains. I did the shoot at my favorite studio STUDIO 46 on Pico Blvd. in Los Angeles. It was a quick and easy shoot with the guys. They were in good spirits and feeling good. We did a couple simple set-ups and finished in a couple hours.
What I remember most about this shoot is the guys were not in the mood to do a shoot. You could tell they had done enough photo shoots and were a bit annoyed on having to do another. I did my best to keep it simple and fast. Shooting at Studio 46 was always fun and the owner Bill White always took good care of me. This was my last time seeing the band and Layne. I look back now and wish I could have said more. Done more and just thanked them for making some of my favorite music!!!