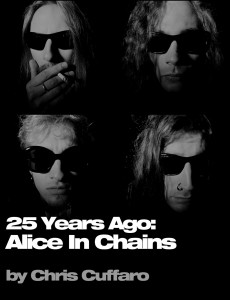 09.11.91 – Alice in Chains | Rolling Stone
My first shoot with Alice in Chains was a good one.  A simple one and a fast one.  I had met the guys before in Seattle.  I knew this was going to be good.  I did the shoot for Rolling Stone in Orange County at a hotel ballroom.  The label and management did not give me much time.  I did my best to keep it simple.  Black background and a single light source.
I first shot individual portraits of each member… Layne, Jerry, Mike and Sean.   The guys were tired from touring and playing shows, but gave me their best.  After the solo shots I did a series of band fotos.  Layne did not want to take his sunglasses off and I just had to let him wear them.  Everyone wanted to wear shades, but I was able to get Sean to take his off for photos.  Of course the drummer is the nice one.
After I submitted the photos to Rolling Stone they got back to me and told me they would not use the photos cuz Layne was wearing sunglasses.  They told me they did not like people wearing sunglasses in photos.  I was like… Huh!  I could not believe it cuz I've s