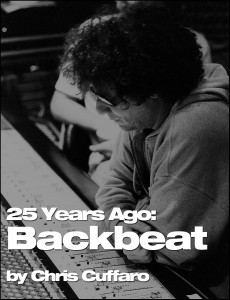 03.26.93 – Backbeat Soundtrack | Virgin Records
This was one of the best days ever! First you gotta understand that I love the process of creating more than anything. Being at OceanWay Studios for a day with Don Was producing the soundtrack for the Backbeat movie was the best of the best! He gathered an all star line up to cover some classic Beatle performances. Greg Dulli (The Afghan Whigs), Dave Grohl (Foo Fighters), Don Fleming (Gumball), Thurston Moore (Sonic Youth) and Mike Mills (REM). A great day making music!!!
What was truly amazing was watching the guys listen to The Beatles version of the song, then play around in the studio with their instruments, talk about the song and then nail it on the first take!!! Like holy fuck who does that? They did maybe 2-3 takes at the most. Kept it real, organic and fun. Of course Greg just nailed the vocals. Dave kicked ass on drums! If you listen the songs you will either think The Beatles were punk rock or the guys made the songs punk rock.
At the end of the day I took the guys out the back of the studio and shot them as a band. Months later I met with them again in NYC to shoot them at their video shoot. Overall one of the best shoots and moments in my long career. I want to give a big THANKS to Don Was for being so cool and letting me shoot such a brilliant day.