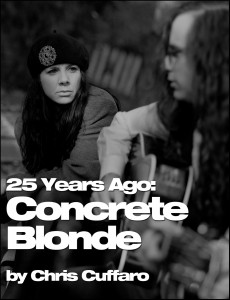 01.08.92 – Concrete Blonde | Creem Magazine
Shooting for the new version of Creem Magazine was always fun. Did many cool shoots for them… Nirvana, Jane's Addiction, Adam Ant and more. Always a good time. This shoot with Concrete Blonde was super fun. It was my second shoot with Johnette Napolitano and James Mankey. I shot them many years before for Detour Magazine.
What I remember about this shoot most is that Johnette and James were very nice and rather quiet. We did the shoot in the backyard of a house up in the hills. I don't even remember who's house it was. The shoot was simple and easy. Their biggest hit is Joey but my personal favorite is God is a Bullet. Big fan of their music.
I loved the results from this shoot and I really think Johnette looks great. I remember doing the whole shoot with my Pentax 67 camera and only shooting black & white film. Did not want to waste time on color. Back in those days you had to know what you wanted to do before the shoot. Back in the day there were lots of hoops to jump through. No "I miss the good old days" post from me.