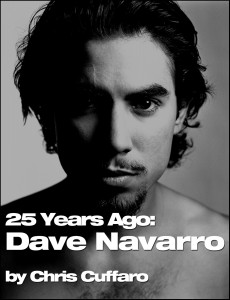 11.06.93 – Dave Navarro | Guitar World Magazine
SO many shoots with Dave and SO many great results. This shoot was no different than the rest. Dave does NOT take a bad picture. NOT cuz he's handsome, but cuz he has the "IT" factor. He's has the special gift and charisma that makes a great photo!!! He's always been one of my favorite subjects ever! Never a bad shoot or photo in my vault.
What I love about this shoot was Dave was looking great. We shot at the studio, kept it simple and had fun. You kind of put Dave in his space and let him be Dave! You know what I mean? Just let the artist be themselves and shoot this shit out of it. I've said it forever that Dave is my favorite guitar player. I think he's the best of his generation. I'm so fucking lucky to have seen him play and get these shoots with him! He's also one of the nicest people you will meet. Thanks Dave!!!