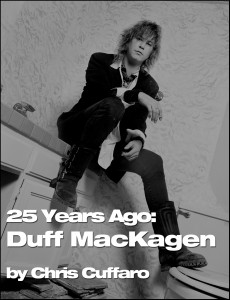 09.03.93 – Duff McKagen | RollingStone Magazine
This was fun, but interesting. This was my first time shooting Duff McKagen for Rolling Stone Magazine. It was awesome to meet and shoot him cuz we had lots of mutual friends from Seattle at the time. Guns N' Roses was at their peak and Duff was working on a side project as well.
We did the shoot at his house up in Laurel Canyon. I shot Duff first in his bathroom which was under construction, then shot the band afterwards. Back in those days you had to make shit up as you went along. OH wait, I still do that today! What I remember most about this shoot was Duff didn't look too good. I think he was having "too much fun" if you know what I mean.
I ended up shooting years later for his guitar company and he was 100 times more healthy and looked amazing!!! I did that shoot at Smash Box. I had two shoots that day. The first one was with Susan Holmes the super model for Lava Magazine. He showed up at the end of her shoot and I introduced them. The rest is history.