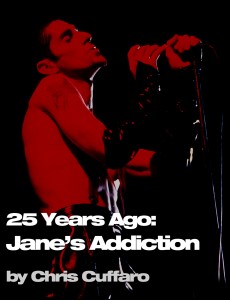 08.28.91 – Jane's Addiction | Last Lollapalooza in Seattle
I told you about the first Lollapalooza already, so lets talk about the last one.  Well, the last one of the first year that is.  This show was outside Seattle at the King County Fairgrounds in Enumclaw.  A bit of a drive and honestly I did not know how I was going to get there.  So I asked a good friend Eddie Vedder and his grrl friend Beth to join me.  They had the car and I had the laminates.  Road trip!!!  What a great day!  We drove to the fairgrounds and stopped along the way to pick up some King Cobra 40's.  You gotta have refreshments!
I was there to shoot Jane's and see my friends so it was fun to have Eddie & Beth with me.  You gotta know that this was before Pearl Jam broke and nobody knew who Eddie was.  They just thought he was a friend.  I went around and introduced him to everyone I knew.  Both Eddie and Beth were big Jane's fans like me.  We watch a few of the bands from the side of the stage, but were just waiting for Jane's.  We walked around and soaked in the whole Lollapalooza vibe.
Jane's finally came on to do their set and of course were awesome!  Set list is here… http://janesaddiction.org/tour/show/janes-addiction/1991-08-28/219/  I shot all that I could cuz I knew this was the last show for this tour.  After the show we mingled backstage, enjoyed the moments with friends and then headed back to Seattle.  Looking back on it now the two things that I remember most… The passion we had for the music and the fun that I had with good friends.  Seriously… Good times!!!