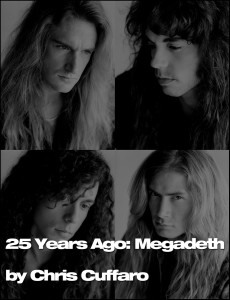 04.07.92 | Megadeth – Capital Records
This was my first shoot with the Dave and the band. It was with one of my favorite Creative Directors in the biz, Tommy Steele at Capitol Records. Working for him and Capitol Records was always a good thing. They had good budgets, good ideas and the bands were always cool. This shoot was for CD packaging and publicity.
We shot at a daylight studio downtown LA. Dave and the guys showed up ready to go. I have to say that the whole band was easy to work with and easy to shoot. Dave was very cooperative and did what ever I asked. Now thats the kind of band I loved working with. Tommy pretty much let me do what ever I wanted which is always a good sign. When the creative director, band and manager let you do what you want… You work even harder to reward their trust.