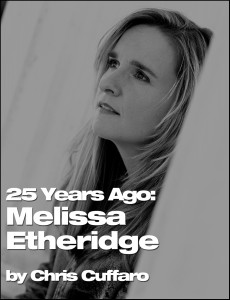 10.22.93 – Melissa Etheridge | US Magazine
Another great shoot with another great musician! Melissa is about as cool as it gets! This shoot was for US Magazine when she was just starting to blow up. We met at a old house towards downtown LA. Actually the same house I directed my Screaming Trees video Shadow of the Season. We had full on styling, make-up and a motor home for our base camp. Took over the whole property!
Melissa is one of those musicians that I like. She has the complete package. Talent, looks, personality and attitude. The real deal! The shoot was fairly simple and easy. She is super photogenic and has done it before. The one thing I remember most about Melissa was that she was super cool and chill. I wanna say confident in her own skin. And of course she was super nice!