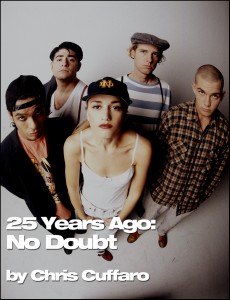 11.10.91 – No Doubt | Interscope Records
This was a good day! I got asked to shoot this new band No Doubt for Interscope Records. The amazing Lori Earl hired me for this shoot and I will always be grateful cuz it started a great relationship with the band. I will never forget my first meeting with the band a week before the shoot. Their A&R man Tony Ferguson told me that the lead singer was going to be a big star. I told him I would wait and see. She walked into the meeting wearing overalls and a backwards baseball hat. I thought, "Star… I didn't think so". The band was so nice and super cool.
We did the shoot at my favorite location Studio 46 on Pico Blvd. Owner Bill White always hooked me up big time and took good care of everything. The band showed up and we got started. They were so young and full of energy. Tony was too cool, Adrian was all energy, Tom was the quiet one, Eric was too funny and then there was the "star" Gwen. We did 4 set-ups and had a great time. The band we so easy to shoot cuz they really knew who they were and had a lot confidence. I just gave them the room to play and my job was to capture it.
By the end of the shoot we were all a bit tired. A good day of shooting for everyone. I have to say after spending the day with Gwen I knew Tony Ferguson was right, she was going to be a BIG STAR! At the end of the day Gwen is just a grrl from Orange County with a heart of gold. She has that special something that very few people have. What ever "it" is, I don't have it and never will. Its just my job to capture "it".