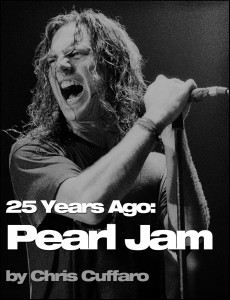 05.12.92 | Pearl Jam | Ventura Theatre
This was a fun road trip and day. A great show of course. I think this was the last time I shot Pearl Jam live. I drove up to Ventura and met the band at The Ventura Theatre. My good friend Erin came with me. We met Eddie at sound check, watched them do their thing and get all worked up. Then Eddie, Erin and I hung out on the tour bus. We talked about life and how everything was going with the band. Eddie was a little stressed, but we told him all was good and just to enjoy the ride.
When the show started I grabbed my cameras and jumped into the pit. I love The Ventura Theatre cuz its small, the sound is great and I've never seen a bad show there. Pearl Jam was on their game and amazing. Eddie killed it in every way. I got some amazing shots and had super fun. The funny part was during the show Eddie handed me a cheap digital watch in between songs. I thought he found it on stage so I just tossed it into the trash. After the show he asked me for his watch!!! I was like holy fuck!! My bad, I did not know it was yours. He laughed and to this day I feel like I owe him a cheap digital watch. Sorry Eddie.