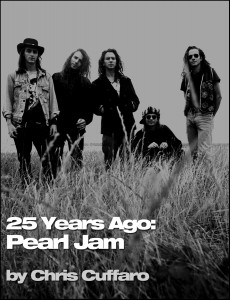 08.29.91 – Pearl Jam | Epic Records
I was already up in Seattle for Lollapalooza and got asked to shoot Pearl Jam for Epic Records publicity.  Legendary publicist Julie Farman hired me to make the guys look good.  ;-)  I had already met the guys and shot them in NYC.  By this time they had resolved their drummer issues and hired Dave Abbruzzese.  That's why they needed the new photos.  I was so pumped to see everyone and have some fun.
We did not have a lot of time so we set the shoot up at Discovery Park in Seattle.  This is the same park where they shot the Temple of the Dog video Hunger Strike.  It was a super nice day and the guys were in a good mood.  I kept it simple and found a few places to shoot.  Side of a hill, in a field and out in the open.
The best part was shooting the band in the open field.  I asked the guys to run at me while I ran backwards and shot.  NOT an easy thing to do.  I had to run backwards, try to hold still and focus my camera!  Not easy.  At the end of the shoot I was running backwards and fell into a hole on my ass.  I saved the camera, but not my ass.  The guys laughed at me and Eddie got my camera to take a photo of me.  Not very smooth on my part.
It was a fast shoot, fun shoot and a great shoot.  I really think the photos captured  Pearl Jam at their best time.  The guys were hungry, passionate and excited about their futures.  I knew they were special and going to be big, but had no idea how big.
PS.  Want to give a shout out and thank you to Julie Farman for making a lot happen for me back in the day.  Without her I would not have had the many moments I had with Pearl Jam!  #GoodTimes