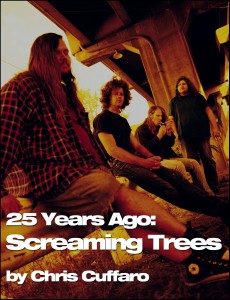 06.17.92 | Screaming Trees | Epic Records
This was a fun day. Shooting The Screaming Trees in Seattle is totally cool and grungy. I think this was my second time shooting the band. Didn't matter cuz I was in Seattle! We met a my hotel and then walked to a couple simple locations. The guys were mellow and easy. Super low key, like super super low key. The shoot was easy. I shot what I needed at each location and then moved on.
What I remember most about this shoot… I was able to talked to the band about directing a music video for them. I ended up directing two music videos for the band. I direct Dollar Bill and Shadow of the Season for them and Epic Records. I'm very proud of the videos and I think they hold up to this day. The Screaming Trees were a great band from Seattle and never really got the attention they deserved. Miss those guys!!