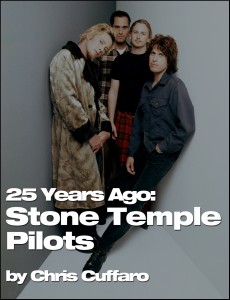 04.29.94 – Stone Temple Pilots | Atlantic Records
This was awesome! Got the call from Atlantic Records to shoot Stone Temple Pilots for publicity for their upcoming album Purple. I set the shoot up for Smash Box Studios in Culver City. This was my first time with STP and Scott Weiland. They were super nice, but not to thrilled about doing a photo shoot. Then again, most bands did not like doing photo shoots.
I had this dumb idea about building a box out of plexiglass and have them inside this box. At the time I thought it was cool. Looking back now… what the fuck was I thinking!?!? This happens a lot when I look at shoots I did in the 80's, I was trying too hard and did some dumb ideas. Kids today! The one big thing I remember about Scott… he was super photogenic. Such personality that just worked great in front of the camera.