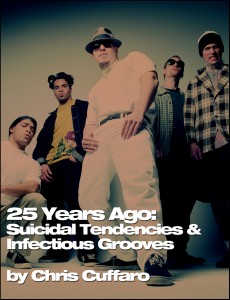 12.22.92 | Suicidal Tendencies & Infectious Grooves | Sony Entertainment
Another shoot with Suicidal Tendencies, but this time we added Mike Muir's other band Infectious Grooves. This was all done for his label Sony Entertainment. Two bands in one day! Holy fuck. Not easy, but nothing I couldn't handle. I just got organized with my shot list and got started. One set-up at a time!
There was a lot of guys in each band and I had to make sure I had the right guys in the right band. Being a fan of Suicidal Tendencies I was looking forward to hearing this new band. The shoot was fast and crazy. I got the label what they needed and all was good. Last thing… Shooting two bands in one day was crazy fun, but something I did not want to do again. Ugh.