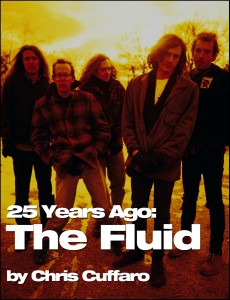 01.24.93 – The Fluid | Hollywood Records
Have to say this was a fun and cold shoot. I flew to Denver, CO from Los Angeles just to shoot The Fluid. I was a big fan of the band from their Sub Pop Records days. They put out a couple LP's and some singles that I collected. This shoot was for Hollywood Records. I think it was for publicity and packaging. Not 100% sure.
Since I was a fan and we had a lot of mutual friends back in Settle it made the shoot a lot of fun. The lead singer John Robinson was fucking amazing. The band and I just drove around Denver. We shot at any location we could think of or get into. My favorite was a city park that was covered in snow. Shooting in the cold is not easy. Your hands get so cold you can't feel the camera.
Their first album for Hollywood Records was called PurpleMetalFlakeMusic. It was a great package cuz it was purple and metal flake!! Personally, it was super cool for me to shoot anyone or any band that was part of the SubPop Records history. I collected everything single and LP I could get my hands on.