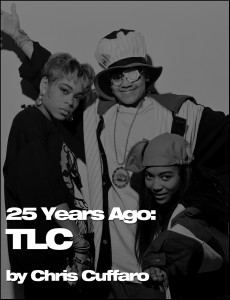 03.28.92 | TLC – Rolling Stone
This was another fun shoot for Rolling Stone Magazine. TLC was the the Crazy Sexy Cool grrl group from Atlanta. The 3 grrls Rozanda "Chili" Thomas, Tionne "T-Boz" Watkins and Lisa "Left Eye" Lopes. This was my first time meeting and shooting the trio. They we very cool and a lot of fun. I did not have a lot of time to shoot them, so I moved quick and did my best.
What I remember most about this shoot was meeting Lisa for the first time. I ended up shooting her again in 2000 for Vibe Magazine with her then husband Andre Rison. She was very special and really stood out at both shoots. Rolling Stone was happy with the results and it was always my goal to make them happy!