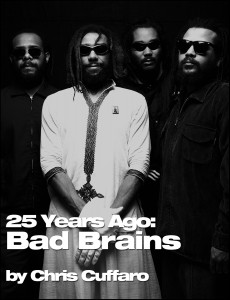 02.21.95 – Bad Brains | Maverick Records
This shoot was a strange, but great shoot! The awesome Guy Oseary from Maverick Records hired me to do this shoot for packaging. I will always thank Guy for everything he did for me. Hired me many times for so many great artists! Shooting Bad Brains was a BIG deal cuz they were punk legends!
We did the shoot at Smash Box Studios in Culver City. Shot inside and outside. Did as much as we could with the band and solo shots of HR their lead singer. HR was a strange one for sure. He spent the day holding his guitar in its guitar case. Only let go of it when we had to shoot. Not sure why, but I didn't care. I was getting great shots and that is ALL that matters. The rest of the band was awesome and so nice. Overall and really easy shoot and a great day!