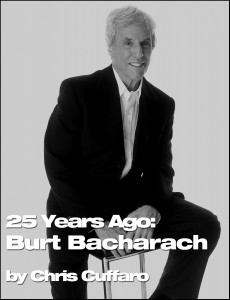 02.26.98 | Burt Bacharach | TNT Network
How do I say this?  How do I describe one of favorite shoots ever?  Shooting Burt Bacharach for Turner Entertainment was by far one of my GREATEST shoots ever.  I was a big fan since I was a child.  His music was the best of the best.  Hit after hit.  Meeting and shooting him was too much fun.  We did the shoot at Smash Box Studios in Culver City.  It was for marketing and publicity for a TV special.  This was a big deal and a big shoot.
The best part of the whole shoot was right when we started.  He had walked onto the set ready to shoot the first setup.  He was wearing a nice suit and standing in front of a piano.  I asked him one simple question… "Why San Jose?"  He looked at me seriously and said "I don't know."  I told him I grew up in San Jose and the only thing we were famous for was his song Do You Know the Way to San Jose?  He laughed and told me that his writing partner Hal David was in the Navy, stationed in Fremont at Moffett Field and most likely chose San Jose because of that.  I laughed and said there were plenty of other choices, but it made sense.
We did the shoot and at the end he asked if he could see the results.  I went to his home with the film and light box a couple days later.  He looked over everything a picked some favorites.  Some time later he used one of the shots for an album cover!!!  Like HOLY FUCK!!!  Just about killed me to see that album at Tower Records.  The photos have popped up here and there through the years and I'm beyond grateful for the shoot, the conversation and fun. 
I was sad to hear the news while I was in New Zealand that Burt Bacharach had passed away on February8th. Telling this story makes losing him a bit harder.  I want to THANK him for the moments he gave me and for letting me ask such dumb questions (I asked a lot).  He laughed, smiled, gave me his best and made this shoot one of the best in my life.  They say you don't want to meet your heroes cuz they will disappoint you.  Well, Burt Bacharach exceeded ALL my expectations and was the best of the best.  Thanks Burt Bacharach for everything!!!