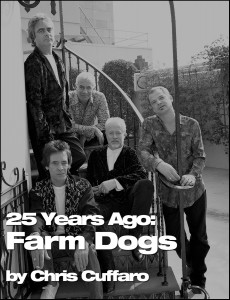 04.12.97 – Farm Dogs | Discovery Records
Legendary songwriter and icon Bernie Taupin and his band the Farm Dogs at The Ambassador Hotel.  The shoot was for Discovery Records.  I did the shoot for publicity and packaging.  Bernie and his band were legends!  The band was Tad Wadhams, Jim Cregan, Tony Brock, Bill Payne and Robin Le Mesurier.
This was my second shoot with Bernie. And the band.  I loved shooting at The Ambassador Hotel, but then again shooting anyone there was fun cuz you always found a new space to shoot in and none of them are the same,  I loved shooting outside and around the building.  A bit of history lesson… this hotel was where Robert F. Kennedy was assassinated way back in 1968.  There was a couple X's in the pantry area marking the spot he was shot.  Kind of spooky.