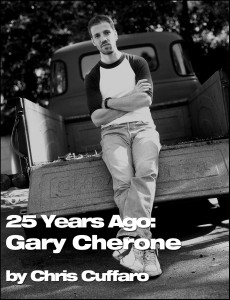 02.27.98 | Gary Cherone | Entertainment Weekly
This was fun for a couple reasons.  Shooting Gary Cherone for Entertainment Weekly was a good day for sure.  The shoot was easy and simple!  I did the shoot at 5150 Studios.  YES, you heard me right.  5150 Studios was Eddie Van Halen's home studio and he was there for the shoot.  Fuck yes!  Eddie and I chatted about the shoot I did with Van Halen back in the day.  Still to this day I don't think he remembered, I just think he was being nice.
Gary was from the band Extreme, but had started recording with Van Halen for their album Van Halen III.  The shoot was about Gary and how he was the new singer for the band.  I have to say Gary was super nice and easy going.  The shoot was easy and didn't take too long.  What I remember most about the day was being at 5150.  It was legendary and where Van Halen recorded everything!!