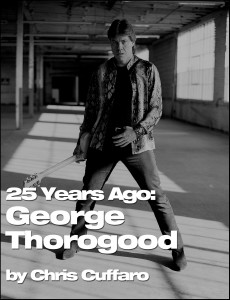 01.10.97 – George Thorogood | EMI Music Group
Let me see now… I did this shoot for EMI Records.  It was for the album cover and publicity with legendary art director Henry Marquez.  I shot George Thorogood and his band at 5th & Sunset studios in Hollywood off Santa Monica Blvd.  It was blocks from where I lived so it made life easy.
The shoot was rather simple and easy.  I have to say I was a bit of a fan of George Thorogood and his music.  The band was super nice and easy to shoot.  The one thing I remember most about this shoot was that George was super cool and Henry was happy with the results.  It's one of my favorite album packages to this day!