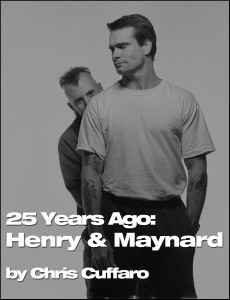 06.16.94 – Henry Rollins & Maynard James Keenan | RIP Magazine
This was a strange day for sure. Think about it… Henry and Maynard. Seriously, think about it. I did this shoot for RIP Magazine at some studio I don't remember. I don't know what the article was for, but I loved the idea of shooting these legends separate and together. My goal was just to get what I could, because they were not the easiest subjects I could shoot.
In the end this shoot was fun. Maynard was amazing and Henry was Henry. Separately they were awesome as you would expect. Together even better. I love the shots of them laughing and having fun. It was a good day for me and this dynamic duo. I still can't believe this shoot happened to this day. One of the crazier ones for sure!