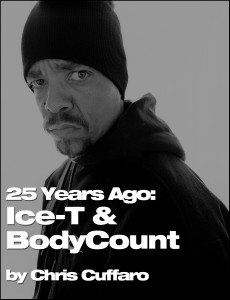 11.08.96 – Ice-T & Bodycount | Virgin Records
YO!  This was a GREAT day for sure.  Shooting Ice-T & Bodycount for Virgin Records at 5th & Sunset Studios was fucking brilliant!  My first time shooting Ice-T with his band for publicity photos was so fun & easy.  The band was cool, but Ice-T was and is the best of the best.  I first met him during the first Lollapalooza Tour in 1991.  Seeing him perform with Jane's Addiction was amazing!
This shoot was easy and simple.  Just line the band up and shoot!  They were so bad ass and full of confidence!  Make me look good.  BUT the best part of the shoot was talking with Ice-T about music and the music I grew up with.  Since I grew up on funk and R&B he was impressed.  I told him all the concerts I saw and he was impressed.  He was so impressed he called me O.G.  My whole crew was in shock.  It was like being blessed by the Pope!
I'll never forget this shoot cuz I got so many great shots of Ice-T and the band.  I need to dig deeper with this shoot and find some hidden gems.  The Polaroid 665 portrait is one of my favorite photos of ALL time.  Just saying.