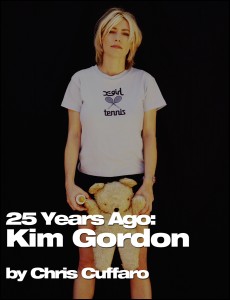 08.15.94 – Kim Gordon | Spin Magazine
I've talked about this shoot in the past. It was for Spin Magazine. Incase you don't know Kim was in the band Sonic Youth. One of the coolest bands of he 90's. A big influence on SO many bands. She just had her first child and I was sent to meet her at her moms home in West LA. Simple and easy!
I got there and cuz the baby was sleeping we couldn't shoot inside. The only option was her front porch. I hung up a 12×12 black solid on the porch and just shot here in front of it. Just using available light. Just simple as always. She had this teddy bear hanging around so I asked her if we could use it. Gotta always look for anything and everything that can make a great photo!
The shoot was super fast! I said thanks and let her go back to the baby. I loved this shoot cuz it was simple, but it proves what I always say… the best subjects make the best portraits. Kim was that for me on that day!