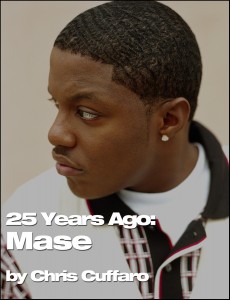 12.17.97 – Mase | Rolling Stone Magazine
This was a crazy day for sure.  Rolling Stone magazine asked me to fly up to San Jose, CA for the day to shoot Hip Hop artist Mase.  I grew up in San Jose and it was an easy thing to do.  I met Mase and his people at the Holiday Inn in downtown.  Again, I knew the are well and it made everything easy.  I didn't get a lot of time with him so I had to keep things simple.
I took him outside to the streets of San Jose.  It's not much, but it worked.  The craziest part of the whole shoot was the fact that I shot him across the street from the San Jose Center for Performing Arts off Almaden Blvd.  Why was this strange?  Cuz that is where my High School graduation was at back in 1978.  How crazy was that?  19 years after I graduated I was there shooting for Rolling Stone!!!  Fuck me!